INSTRUCTOR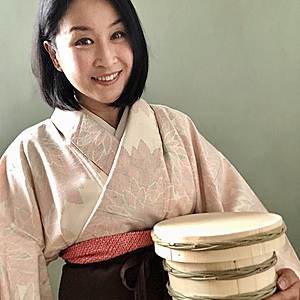 Kinu Yukawa
Kinu Yukawa is a Japanese chef and cookery teacher from Kobe, Japan. She ventured into the world of food early in life and fostered the basics of cooking from her grandmother. Later she trained French cuisine at Ecole Ritz Escoffier Paris and traditional Japanese cuisine in Kyoto.

Kinu believes in the simplicity of the Japanese philosophy of enjoying food with all the body's five senses <五感楽しむ和食>. She appreciates the importance of cooking with vegetables that are in season and at the height of their flavour. By respecting the seasons and their offerings, food nourishes and brings harmony to the body, which is the principle of "和食 Washoku" <the harmony of food> .
Kinu's teaching style focuses on cooking techniques and skills, ensuring that each students master the skills. Kinu is fascinated by sharing her expertise and knowledge of Japanese cooking with students of all walks of life and culinary levels.
REVIEWS
by Niki
Essential Sushi Making Class
Excellent!
Kinu was an amazing instructor and hostess. The class was fun and easy to follow, and we really enjoyed making our bento boxes at the end. Additionally, my husband and one of the other students were celebrating their birthdays and Kinu kindly got a cake for the class as well. She was a wealth of knowledge and provided great recommendations for translating what we learned to our lives. I would absolutely recommend this class to anyone. We thoroughly enjoyed it!
14 Aug 2022
by Lucie
Nerikiri Wagashi Class
Calming experience
I've had a long term interest in Wagashi and this course was an amazing opportunity to finally learn to make these little pieces of art. The group was small and the setting was very comfortable and the whole experience felt calming and very mindful. Kinu Yukawa made the class both enjoyable and informative.
08 Aug 2022
by Olivia
Nerikiri Wagashi Class
Nerikiri Wagashi Class
This is the first time I attended the cook class, but different from what I imagined, it's very lovely atmosphere, although is was not easy to make what I want, but our teacher is very patient and gentle, make me a happy day in a wonderful Sunday!
Want to attend another class of how to make sushi!
08 Aug 2022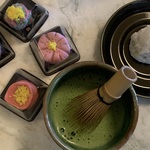 by Jacob gan
Nerikiri Wagashi Class
Beatrice and Jacob gan
Lovely teacher ! Perfect class!
08 Aug 2022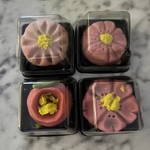 UPCOMING CLASSES