INSTRUCTOR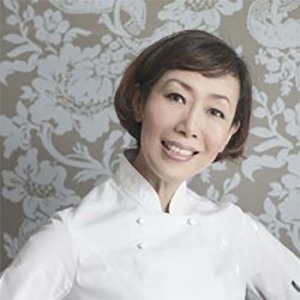 Akemi Yokoyama
Akemi Yokoyama has a background in Japanese food provenance, nurtured from her Father, who along with his family foraged and fished throughout the Island of Hokkaido. She is now a Japanese food specialist, chef, presenter and writer based in London. Her regular Japanese cookery classes at Sozai have received very favourable reviews in the UK's national media, including Time Out and The Telegraph. She has also appeared on the popular TV programmes, C4's Sunday Brunch and CBBC's Saturday Mash-Up, teaching the presenters how to make sushi. She is also an in demand private chef. She has cooked for celebrities including Tina Turner and Rina Sawayama.

She demonstrates authentic Japanese cooking in the UK and Europe at many diverse events, and she regularly works with the Japanese government's related organizations promoting Japanese cuisine and sake to the media and public. Her latest culinary interests include all aspects of fermentation and flavour experimentation across multiple food cultures. .

Akemi is a member of the Japanese Culinary Academy UK, is a certified miso sommelier. She has judged Sake category at International Wine Challenge in 2020/2021/2022.
REVIEWS
by James
Essential Ramen - Ramen Level 1
Simply awesome!
Amazing atmosphere, amazing guidance, and just really good fun. Plus, you get to eat your ramen at the end of the class. What more can you ask for? Highly recommended.
13 Nov 2023
by Marcus
Roll & Roll Sushi Class
Wonderful introduction to sushi
As a long-time eater, but first time maker, I found this class incredibly informative. Akemi took the time to explain the intricacies and techniques to make proper sushi rice with a really clear method. Some of it can be quite cumbersome (compared to just chucking it all into a cooker) but at the end when you get to eat the sushi you made - you can taste why. The class focused on techniques to roll and prepare four kinds of sushi. I made a few mistakes but Akemi was kind and patient enough to correct me. There was an additional bonus at the end, and we were gifted a sushi-making kit which was a lovely surprise. I really recommend the class, it was straightforward and Akemi is really knowledgeable. For example, we were told the history behind why Japanese measuring cups are 180ml and where to source proper fish in London.
06 Nov 2023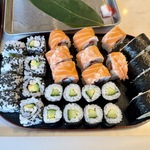 by Sharon
Black Cod, Tempura and Japanese Home Cooking
Ms
Akemi is the most wonderful host and chef and wonderfully assisted by Angela.
Akemi is so knowledgeable and approachable. The class was interactive and we made 6 authentic Japanese dishes ( miso cod, Japanese omelette, miso soup, vegetable tempura, ginger and mushroom rice and my personal favourite spinach and tofu.
I would thoroughly recommend !
31 Oct 2023
by Jessica
Essential Ramen - Ramen Level 1
Best ramen in London!
I highly enjoyed the experience and learn a lot of very useful tips. The venue is very warm and welcoming. Everything is clean and most of all, the food is delicious.
Sincerely, thank you to the chef Akemi! It is the best ramen I ate in London. I cannot wait to cook it for my boyfriend.
16 Oct 2023
UPCOMING CLASSES