INSTRUCTOR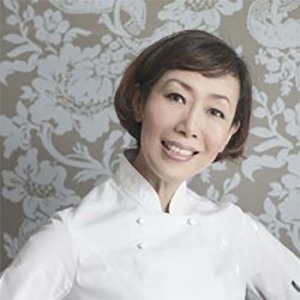 Akemi Yokoyama
Akemi Yokoyama is a Japanese chef, presenter and culinary instructor based in London. Her regular classes at Sozai Cooking School have received very favourable reviews in national media, including Time Out and The Telegraph. She has also appeared on the popular TV programme, C4's Sunday Brunch, teaching the presenters how to make sushi. Her friendly teaching style is easy to follow and informative, she will teach the art of healthy Japanese home cooking to students at all levels.
Akemi's enthusiasm for gastronomy originated early in her childhood in Sapporo, where enjoying the spoils of wild vegetable foraging and sea fishing were regular family activities. This drove her understanding regarding the importance of the freshest, highest quality ingredients together with exquisite taste pairings in Japanese food.
She demonstrates Japanese cooking at various diverse events and she regularly works with the Japanese government's related organizations promoting Japanese cuisine to the media and public. Akemi was recently invited to the prestigious cruise ship MS Queen Elizabeth as the guest chef to entertain guests with the authentic Japanese cuisines and to train their chefs.
Akemi is a member of the Japanese Culinary Academy UK, is a certified miso sommelier, and has the professional sake qualification WSET Sake Level 3.
REVIEWS
by hridi
Dinner Party Sushi 1
Yum and Fun
My partner and I attended a sushi making class in the home of our chef. Due it to being a rainy Sunday we were the only ones in attendance. Our teacher was fun, knowledgeable, personable and SO very talented. The sushi was delicious and we were exposed to new experiences (such as Wasabi vodka) and tricks of the trade. We will certainly be doing this again!
13 Feb 2020
by Yung Chai
Ramen Class
Perfect! Just perfect!
The class was enjoyable. At the right pace. Our sensei was very knowledgable and tried to give us plenty of information, techniques. At the end of the day, I was very happy to know that I can now prepare a delicious bowl of ramen. Thank you.
07 Feb 2020
by Kerry
Ramen Class
Brilliant
We had a brilliant evening. The teacher was great, knowledgeable not just about the ramen recipe we were making but about ramen and Japanese cuisine generally. We made a really delicious meal and definitely will be making it again at home.
04 Feb 2020
by Philip
Ramen Class
A fun and informative evening. Thank you.
A huge thank you to Akemi Yokoyami and the Sozai Cookery School for putting on a fantastic beginners' Ramen course. I consider myself a ramen novice but such was the clarity and ease with which Akemi took us through the basics of cooking ramen that I came away feeling I am definitely ready to cook my own ramen at home.
The style of the class worked really well. Akemi herself is very approachable and extremely knowledgeable so no question was too much trouble for her. Her warm personality also helped create a fun and supportive atmosphere between the participants so as well as being informative the evening was just a lovely way to spend an evening. And of course, once we had gone through our steps of preparing ramen, we had the pleasure of eating what we had made with beer and saki. A fine way to end the evening and I can confirm that freshly made noodles are defiantly a cut above the bought variety. Thank again to Akemi and the Sozai school for a great a evening!
04 Feb 2020
UPCOMING CLASSES