INSTRUCTOR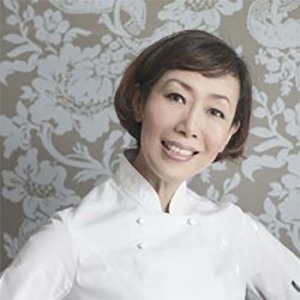 Akemi Yokoyama
Akemi Yokoyama is a Japanese food specialist, chef and presenter. Akemi's regular classes at Sozai Cooking School have received very favourable reviews in national media, including Time Out and The Telegraph. She has also appeared on the popular TV programme, C4's Sunday Brunch and children's popular TV programme, Saturday Mash Up on CBBC teaching the presenters how to make sushi.
Akemi's enthusiasm for gastronomy originated early in her childhood in Sapporo, where enjoying the spoils of wild vegetable foraging and sea fishing were regular family activities. This drove her understanding regarding the importance of the freshest, highest quality ingredients together with exquisite taste pairings in Japanese food.
She demonstrates Japanese cooking at various diverse events and she regularly works with the Japanese government's related organizations promoting Japanese cuisine to the media and public. Akemi was recently invited to the prestigious cruise ship MS Queen Elizabeth as the guest chef to entertain guests with the authentic Japanese cuisines and to train their chefs.
Akemi is a member of the Japanese Culinary Academy UK, is a certified miso sommelier, and has the professional sake qualification WSET Sake Level 3.
REVIEWS
by Jacqui
Essential Ramen - Ramen Level 1
Absolutely loved it
I couldn't recommend the class more highly, it was great fun and there was also so much to learn. Akemi's knowledge and passion are so apparent and her attention to detail made everything very easy to understand. And the food we made was just devine!
15 Mar 2022
by Andrea Del Rio
Essential Ramen - Ramen Level 1
Ramen Course
Amazing! I couldn't be happier with the course.
The teacher is super passionate about what we are doing and the taste of the food was impressive .
14 Mar 2022
by Duarte
Dinner Party Sushi 1
Great experience
Fantastic way to learn special sushi techniques in a very welcoming, friendly and detailed manner. Thank you very much for the great experience.
01 Mar 2022
by Eva
Ramen Class: Valentine Special
Japanese CharSiu Ramen noodles class
It was a fun class that I enjoyed very much. Looking forward to join next interesting class soon.
18 Feb 2022
UPCOMING CLASSES