INSTRUCTOR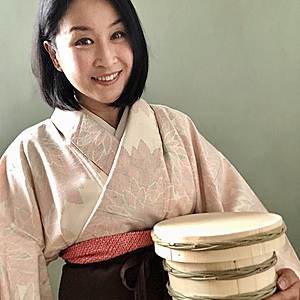 Kinu Yukawa
Kinu Yukawa is a Japanese chef and cookery teacher from Kobe, Japan. She ventured into the world of food early in life and fostered the basics of cooking from her grandmother. Later she trained French cuisine at Ecole Ritz Escoffier Paris and traditional Japanese cuisine in Kyoto.

Kinu believes in the simplicity of the Japanese philosophy of enjoying food with all the body's five senses <五感楽しむ和食>. She appreciates the importance of cooking with vegetables that are in season and at the height of their flavour. By respecting the seasons and their offerings, food nourishes and brings harmony to the body, which is the principle of "和食 Washoku" <the harmony of food> .
Kinu's teaching style focuses on cooking techniques and skills, ensuring that each students master the skills. Kinu is fascinated by sharing her expertise and knowledge of Japanese cooking with students of all walks of life and culinary levels.
REVIEWS
by Carla
Vegan Shojin Cooking Class
Amazing vegan Shojin course
This course was great, we made lots of different dishes but it didn't feel rushed or pressured. I learnt new flavours and techniques that I will use again. Kinu was very knowledgeable and welcoming and I enjoyed spending time talking with her and the participant. The food was delicious and I'm hoping to go back for another course soon. I would highly recommend!
26 Sep 2023
by EljeeJ
Nerikiri Wagashi Class
A rare gem of a class
It is really difficult to find Japanese dessert making classes in the UK so I was thrilled that Kinu was offering this nerikiri wagashi class in Brighton.
Kinu is an excellent teacher - patiently demonstrating the steps needed and answering all my questions. She has a warm and relaxing approach to her class and it made for a lovely Sunday afternoon. If you're looking for Japanese food that is not sushi or ramen then this is it. Recommended!
19 Sep 2023
by Josh
Vegan Shojin Cooking Class
Mr
I had such a lovely time at Kinu's class. It was great to see how to get so much flavour from the dishes and of course was so good to eat as the food was tasty! It was a small class which I prefer and I'm looking forward to cooking all these dishes at home.
18 Sep 2023
by Syeda
Nerikiri Wagashi Class
Miss
I throughly loved this class! It was such an incredible opportunity to have a go at making a delicious dessert that I first tried at a tea ceremony in Japan, now many years ago. The class was well organised, all the equipment was provided, how to make the anko was demonstrated and we all had a go, the instructions were crystal clear...for me it was absolutely well worth paying for this class...as I now have the basics I cannot wait to explore and make my own! Luckily I have a friend visiting from Japan soon, who will get me some of the fancy utensils so I can practice to my hearts content! The other fellow students who joined the class too were wonderful...there was even a sushi chef! It was great to meet others who loved wagashi as much as I did! Whooop! Thank you so much Sozai! If you like wagashi and like to make desserts...I would most highly recommend this class! The great thing is learning the skills, which you will then have for life! ありがとうございました!
27 Jul 2023
UPCOMING CLASSES