INSTRUCTOR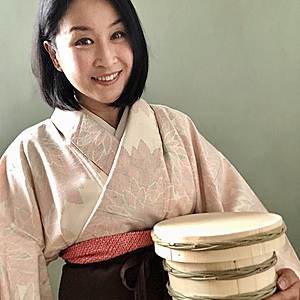 Kinu Yukawa
Kinu Yukawa is a cooking instructor, food stylist and private chef from Kobe, Japan. She ventured into the world of food early in life and fostered the basics of cooking from her grandmother who was a chef. Later she trained at Ecole Ritz Escoffier Paris and traditional Japanese cuisine in Kyoto.
Kinu believes in the simplicity of the Japanese philosophy in enjoying food with the body's five senses as well as cooking with the colourful produce in season. Bringing 'harmony' to the body nourished by the seasonal 'food' which is one of the meanings of the word 'Washoku' (the harmony of food), the Japanese terminology for Japanese cuisine.
Kinu has been teaching Japanese cooking at the Japan Centre London since 2011, sharing her expertise and knowledge of Japanese cooking and styling to students of all walks of life and various levels of culinary interests.
Visit her website @
Deliciously Japanese
www.kinuyukawa.com
REVIEWS
by Katie
ONLINE OKONOMIYAKI & STREETFOOD CLASS
Easy to make and delicious!!
What a fab experience to cook such traditional Japanese dishes in such a fun way. The okonimiyaki was soooo easy to make and to die for. I recommend cooking these with friends.
12 Aug 2020
by Michelle
ONLINE JAPANESE COOKING BASICS 1 - TERIYAKI
Fun and useful masterclass
Kynu was a great instructor, very friendly, knowledgeable and interactive. She made sure to check in with everyone in the class and waited to ensure we were all at the same stage before moving on. She confidently answered all the questions we had and added extra knowledge about ingredients and cooking techniques. I learnt a lot and we all enjoyed the final meal. I will absolutely be attempting the meal again to wow any future dinner guests. Highly recommended!!!
04 Aug 2020
by Yung Chai
ONLINE OKONOMIYAKI & STREETFOOD CLASS
New experience
I thoroughly enjoyed the class. Very informative and interesting! Highly recommend it for anyone interested in Japanese cooking.
31 Jul 2020
by Kae Yukawa
ONLINE OKONOMIYAKI & STREETFOOD CLASS
Okonomiyaki
such a fun class and excellent teachings from Kim. A brillaint way to cook together with your family and friends. Restaurant standard magically cooked in your own kitchen. Perfect. Thank you Kim we will be back.
31 Jul 2020
UPCOMING CLASSES