INSTRUCTOR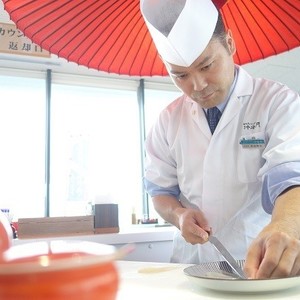 Takeshi Suda
<< Special guest chef >>
須田剛史 Takeshi Suda
Head chef in the educational restaurant Okimizuki at Kamo Aquarium , Tsuruoka in Japan.
Tsuruoka-city has been designated a UNESCO Creative City of Gastronomy in 2014, for its
traditional food and culture techniques and its inspirational chefs. Master chef Suda devotes to various educational programs with passion from Shokuiku, traditional tea ceremony to cutting Fugu fish technique.
===================================
Yamagata Prefecture, Shonai region, Japan.
A wondrous aquarium praised worldwide
Tsuruoka City, where stands Kamo Aquarium, is known for its abundant wild nature of the mountains and the plains,
highly subject to the distinct four seasons of the region ; but also faces the Japan Sea, a sea blessed with an
incredibly rich varieties of living forms. Just like the living forms on land, the living beings in the sea are subject to
the seasons. We personally think it is our duty to transmit the richness of the sea and the culture of the "people of
the sea". This is why we opened Kamo Aquarium, affectionately referred to as "The Dream House of Jellies".
Through jellyfish amongst other sea creatures present in the aquarium, you will be able to discover all the
uniqueness and plurality of sea life. From time to time, sea lions shows are held in the show area, as well as
explanatory classes about jellyfish. You can also interact with seagulls on stage and learn how they live. Kamo
Aquarium will definitely teach you something new.