INSTRUCTOR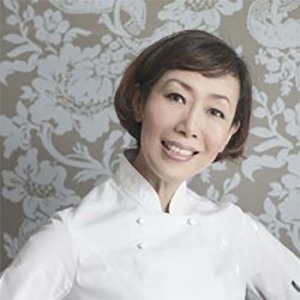 Akemi Yokoyama
Akemi Yokoyama is a Japanese chef, presenter and culinary instructor based in London. Her regular classes at Sozai Cooking School have received very favourable reviews in national media, including Time Out and The Telegraph. She has also appeared on the popular TV programme, C4's Sunday Brunch, teaching the presenters how to make sushi. Her friendly teaching style is easy to follow and informative, she will teach the art of healthy Japanese home cooking to students at all levels.
Akemi's enthusiasm for gastronomy originated early in her childhood in Sapporo, where enjoying the spoils of wild vegetable foraging and sea fishing were regular family activities. This drove her understanding regarding the importance of the freshest, highest quality ingredients together with exquisite taste pairings in Japanese food.
She demonstrates Japanese cooking at various diverse events and she regularly works with the Japanese government's related organizations promoting Japanese cuisine to the media and public. Akemi was recently invited to the prestigious cruise ship MS Queen Elizabeth as the guest chef to entertain guests with the authentic Japanese cuisines and to train their chefs.
Akemi is a member of the Japanese Culinary Academy UK, is a certified miso sommelier, and has the professional sake qualification WSET Sake Level 3.
REVIEWS
by Yoko N.
1/2 Day Online Ramen Class
Professional Ramen Class!
It was a great pleasure to attend Akemi's online half day Essential Ramen class on Sunday afternoon.
Easy, Fun, Tasty… I've learned so many thing about Ramen deeply.
I've actually made various Ramen since then. So delicious!

It is a good idea to have a few breaks during the class, with no stress!
As Akemi stays online during the breaks, so we could ask her some questions as well.

I will definitely take another online class of Akemi in the near future.
Highly recommend. Arigato Akemi Sensei!
26 Jul 2020
by Tory
1/2 Day Essential Ramen Class (Online)
1/2 Day Essential Ramen Class
The whole of the family had a wonderful afternoon learning about the history of ramen and how to cook it.
Akemi, guided us through various techniques for: ramen chicken stock, char shu pork, ramen paste, toppings and the most amazing ramen noodles. The results were delicious aromatic ramen, with bouncy noodles - and yes we drank all the broth!
We live in France, so being able to do the on-line cooking classes with Sozai is terrific, infact even if we lived in London, I think we'd opt for the on-line class as it's lovely to do this at home with friends or/and family.
We're looking forward to the next class.
Tory
20 Jul 2020
by hridi
Dinner Party Sushi 1
Yum and Fun
My partner and I attended a sushi making class in the home of our chef. Due it to being a rainy Sunday we were the only ones in attendance. Our teacher was fun, knowledgeable, personable and SO very talented. The sushi was delicious and we were exposed to new experiences (such as Wasabi vodka) and tricks of the trade. We will certainly be doing this again!
13 Feb 2020
by Yung Chai
Ramen Class
Perfect! Just perfect!
The class was enjoyable. At the right pace. Our sensei was very knowledgable and tried to give us plenty of information, techniques. At the end of the day, I was very happy to know that I can now prepare a delicious bowl of ramen. Thank you.
07 Feb 2020
UPCOMING CLASSES