INSTRUCTOR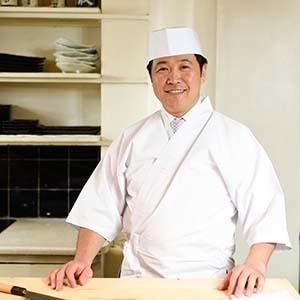 Tomokazu Matsuya
Master Chef Tomo Matsuya
Born in Hokkaido,Japan. Matsuya completed his culinary education at 17 years old. After obtaining his international cook's license he joined the self-defense forces of Japan and for 15 years cooked for many VIPs of many nations as the forces' chef. After starting his own venture, he took a position at SO Restaurant in Soho London as the Head Sushi Chef. Then he has been another Head Sushi Chef at Miyama Mayfair ,works as a sushi teacher at Sozai Cooking School https://www.sozai.co.uk and an exclusive private chef at Ikisho. Recently, he has opened own casual dining restaurant Ezo Japanese in Central Acton.
Please enquire his bespoke classes for the professionals to info@sozai.co.uk.
松谷友和
北海道生まれ。17歳にして食の道を志してから、国際船舶料理士の免許を習得し自衛隊に所属。その後15年に渡り、世界各国の著名人らへも料理を提供してきた。渡英してからは、食の中心地とも呼ばれるソーホーのSo Restaurant, またロンドンでも一等地のメイフェアのMiyamaにて、どちらでも料理長を務める。その親しみやすい人柄をかわれ、シティーにあるSozai Cooking Schoolでの人気講師でもあり、またラグジュアリーロンドンでも掲載されたIkisho ブランドを通じ、プライベートシェフをしての腕もふるっている。この秋より、カジュアルな日本食を提供するEzo Japanをオープンし、起業家としても才能を発揮している。