INSTRUCTOR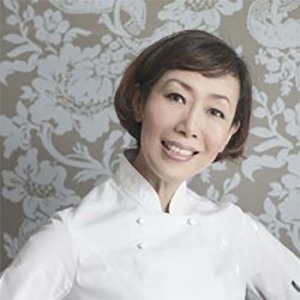 Akemi Yokoyama
Akemi Yokoyama is a Japanese chef, presenter and culinary instructor based in London. Her regular classes at Sozai Cooking School have received very favourable reviews in national media, including Time Out and The Telegraph. She has also appeared on the popular TV programme, C4's Sunday Breakfast, teaching the presenters how to make sushi. Her friendly teaching style is easy to follow and informative, she will teach the art of healthy Japanese home cooking to students at all levels.
Akemi's enthusiasm for gastronomy originated early in her childhood in Sapporo, where enjoying the spoils of wild vegetable foraging and sea fishing were regular family activities. This drove her understanding regarding the importance of the freshest, highest quality ingredients together with exquisite taste pairings in Japanese food.
She demonstrates Japanese cooking in the UK and Europe at various diverse events and she regularly works with the Japanese government's related organizations promoting Japanese cuisine to the media and public. Akemi was recently invited to the prestigious cruise ship MS Queen Elizabeth as the guest chef to entertain guests with the authentic Japanese cuisines and to train their chefs.
Akemi is a member of the Japanese Culinary Academy UK, is a certified miso sommelier and has the professional qualification WSET Sake Level 3.
REVIEWS
by Judith du plessis
Black Cod and Japanese Home Cooking
A lovely class with a lovely teacher
My partner and I attended Akemi's black cod home cooking class. She was so lovely and welcoming and obviously very knowledgeable about Japanese cooking. We learnt a lot and enjoyed eating the food at the end of class with a glass of beautiful Japanese wine. Would thoroughly recommend.
19 Jan 2019
by Kevin
Ramen Class
A great intro to ramen
I was unsure we could create a tasty and authentic ramen within the 2-hour class. I'm glad to say I was totally wrong.
Akemi, our teacher, was great and there was a good mix of history, instruction and practical elements within the lesson.
Noodle making was fun and surprisingly easy, and the tips about where to buy ingredients were really useful for trying to replicate at home. Which we will definitely be doing at some point.
Tasting the finished dish, it was hard to imagine how something that simple could be so delicious.
Thanks Akemi!
18 Jan 2019
by James
Dinner Party Sushi 1
Simply a stunning experience
My girlfriend and myself attended the sushi making class las week. Having never made sushi before this class was the perfect introduction.
We learned to make four different kinds of sushi and each time were given precise, easy to follow, instructions. The food we created was absolutely delicious and looked incredible.
I would definitely recommend this class for anyone wanting a fun introduction into the world of sushi.
18 Jan 2019
by Lisa
Ramen Class
Great class for beginners to attend!
I really enjoyed the class, everything was well prepared and organised she had an assistant which helped things go smoothly. The class room was spacious and seems to be a eatery during the day.
Watching Akemi teach, she put lots of careful attention into each action she taught. I immediately made a dinner for the family on the following weekend. It was really nice to have met her and she shared some of her recent stories and a few insider tips at the Ramen class from when she visited the head chefs of other Ramen chains. The best part of course was to eat what you cooked for dinner!
16 Jan 2019
ALL CLASSES