INSTRUCTOR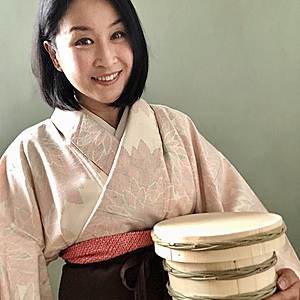 Kinu Yukawa
Kinu Yukawa is a Japanese chef and cookery teacher from Kobe, Japan. She ventured into the world of food early in life and fostered the basics of cooking from her grandmother. Later she trained French cuisine at Ecole Ritz Escoffier Paris and traditional Japanese cuisine in Kyoto.

Kinu believes in the simplicity of the Japanese philosophy of enjoying food with all the body's five senses <五感楽しむ和食>. She appreciates the importance of cooking with produce that are in season and at the height of their flavour. By respecting the seasons and their offerings, food nourishes and brings harmony to the body, which is the principle of "和食 Washoku" <the harmony of food> .
Kinu has been teaching Japanese cooking previously in Hong Kong for 7 years, and currently in London for over 10 years. She is fascinated in sharing her expertise and knowledge of Japanese cooking to students of all walks of life and culinary levels.
REVIEWS
by Kiyomi
ONLINE UDON MAKING WORKSHOP
Udon & Kakiage Cooking
I've never made Udon from scratch and Kakiage Tempura. Kinu taught us from the basic and kindly offered 2 different kind of soup/sauce for Udon which was really great and enjoyed both hot and cold Udon for dinner with delicious Tempura. Kinu was very skilful and kind to us to share her great depth of knowledge. I highly recommend Sozai cooking courses! Thank you so much!
12 Apr 2021
by Shizu
ONLINE KARAAGE BENTO COOKING CLASS
Easy , simple but delicious !!
I am so happy to have joined this lesson , it's really useful for me.
My 4 years old son usually do not like meat but he loves this Karaage very much. I cooked again next day and brought on a picnic. It was still delicious !
Kinu is absolutely wonderful , so lovely teacher. Everything was well explained.

I highly recommend taking a cooking class for everyone that may be interested. I'll definitely be back for another!
Kinu san arigatou !!
06 Mar 2021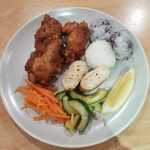 by Louisa
ONLINE SHOJIN VEGAN 1 COOKING CLASS
Great Class!
I really enjoyed the shōjin ryōri class - the teacher went at a good pace and the food at the end was delicious! I would feel confident cooking this again now. It was also good to have a bit of an explanation about the background of the style of cooking.
28 Feb 2021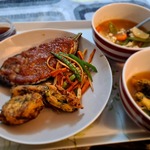 by ruriko duer
ONLINE JAPANESE YOSHOKU COOKING - VALENTINE SPECIAL
Japanese Yoshoku Cooking
I joined from Los Angeles, California, USA. Thank you for the fantastic experience. Kinu san was very clear and made it very easy to prepare restaurant grade Japanese menu. It was fun and delicious.
16 Feb 2021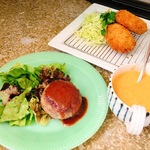 UPCOMING CLASSES