INSTRUCTOR
Izumi Nakamura
Izumi grew up in Amakusa, a beautiful chain of five islands located in the south of Japan, blessed with delicious, natural, wholesome food -Izumi has never been far away from the joy that food can bring, honing her super-healthy recipes in surroundings with rich history.
She draws upon this upbringing in her work as an outstanding sushi chef, dietary consultant, and qualified sake sommelier. Her background as a trained and experienced pharmacist also enables her to create dishes and menus that are as nutritionally balanced as they are delicious.
She shares her passion for Japanese cooking and the health benefits to be had from it through her fun, informal, hands-on lessons. Her down to earth teaching and creative demonstrations at many companies and shows. She is the GM of Sozai cooking school, managing many events in London and creating various of live streaming shows. She is also founder of 5 Incorporated Ltd, offering private chef/corporate event catering services.
Izumi is a member of the Japanese Culinary Academy UK.
REVIEWS
by Ben
Online Sushi Master Class Vol.2 Futomaki and Tamagoyaki
Top Class
Really enjoyed the Sushi Master Class 2. Lots of top tips and a great result at the end. Confident to move on to the next level.
19 Apr 2021
by Os
Online Sushi Master Class Vol.1 Uramaki & Temari
An excellent introduction to sushi making
I found the beginners class very useful to start my journey into sushi making!
28 Mar 2021
by Felicity
Sozai Friends ONIGIRAZU
Great fun!!
Thank you so much for this evening's class...it was soo good! You guys outdo yourselves every time! I loved everything about the class and my little boy declared the onigirazu 'maybe even better than pizza'! You've honestly really brightened up my day again. I loved all the tips and insight you share with us...the class was perfectly taught!
I can't wait for the next class (I'm obsessed!).
23 Mar 2021
by Sandrine
Mother's Day ROSE Sushi Class
A sushi experience to remember!
I had great fun on this virtual Sushi session. I finally know how to delicious sushi at home with a handful of ingredients.
Izumi san was knowledgeable and patient and along the way there were practical demonstrations on chopping, discussing the different qualities of rice and the secret way to using bamboo rolling mats. I really enjoyed learning the right techniques and it was all very easy to follow. And the best bit – I get to devour the results!
Great way to do something different during lockdown!
18 Mar 2021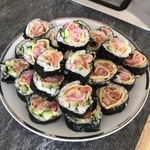 UPCOMING CLASSES