INSTRUCTOR
Izumi Nakamura
Izumi grew up in Amakusa, a beautiful chain of five islands located in the south of Japan, blessed with delicious, natural, wholesome food -Izumi has never been far away from the joy that food can bring, honing her super-healthy recipes in surroundings with rich history.
She draws upon this upbringing in her work as an outstanding sushi chef, dietary consultant, and qualified sake sommelier. Her background as a trained and experienced pharmacist also enables her to create dishes and menus that are as nutritionally balanced as they are delicious.
She shares her passion for Japanese cooking and the health benefits to be had from it through her fun, informal, hands-on lessons. Her down to earth teaching and creative demonstrations at many companies and shows. She is the GM of Sozai cooking school, managing many events in London and creating various of live streaming shows. She is also founder of 5 Incorporated Ltd, offering private chef/corporate event catering services.
Izumi is a member of the Japanese Culinary Academy UK.
REVIEWS
by Shizu
Valentine's Day ROSE Sushi Making Class / Gift
優しい先生で安心
何度か参加させていただきました。
毎回とても優しくおしえてくださるので初めてでも安心できます。
薔薇のお寿司はどんなふうにできあがるのかが想像つかなくて楽しかったです。
色をつけるものがなかったので、ゆかりで作りましたが、先生のおっしゃるとおりビートルートを使えば良かったです。そしてもっとたくさん具を入れればきれいに仕上がったと思いました。
今回もどうも有難うございました!
28 Feb 2021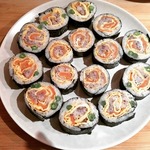 by Ben
Online Sushi Master Class Vol.2 Futomaki and Tamagoyaki
Loved it
Lovely instructor, great food
21 Feb 2021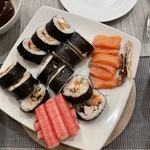 by Shizu
Online Sushi Master Class Vol.3 Shikai-maki & Nigiri sushi
My first Nigiri!!
にぎり寿司を作ってみたくて参加させていただきました。
酢飯を作る時点で結構難しいイメージがありましたが、(もっとたくさん扇がないといけないと思っていたり)先生がさささっと見せて下さったおかげでハードルが下がりました。
マルドンのお塩を使っていいこともわかり嬉しかったです。(粒子の細かいサラサラしたお塩じゃないといけないかと思いこんでいたので)
にぎりは難しかったですがまた挑戦してみたいと思います。
とても楽しい会でした。ありがとうございました!
13 Feb 2021
by Lucy
Online Sushi Master Class Vol.2 Futomaki and Tamagoyaki
Great session!
This was a breath of fresh air during a hard lockdown winter day! Thank you Izi for an engaging and fun session. We learnt a lot and met some new faces too. Would highly recommend
10 Feb 2021
UPCOMING CLASSES