INSTRUCTOR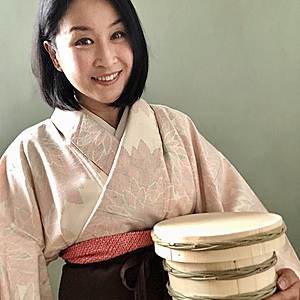 Kinu Yukawa
Kinu Yukawa is a cooking instructor, food stylist and private chef from Kobe, Japan. She ventured into the world of food early in life and fostered the basics of cooking from her grandmother who was a chef. Later she trained at Ecole Ritz Escoffier Paris and traditional Japanese cuisine in Kyoto.
Kinu believes in the simplicity of the Japanese philosophy in enjoying food with the body's five senses as well as cooking with the colourful produce in season. Bringing 'harmony' to the body nourished by the seasonal 'food' which is one of the meanings of the word 'Washoku' (the harmony of food), the Japanese terminology for Japanese cuisine.
Kinu has been teaching Japanese cooking at the Japan Centre London since 2011, sharing her expertise and knowledge of Japanese cooking and styling to students of all walks of life and various levels of culinary interests.
Visit her website -
www.DeliciouslyJapanese.com
@DeliciouslyJapanese
REVIEWS
by Barbara
ONLINE SHOJIN VEGAN COOKING 1
Shojin class
Enjoyed the class, there was a lot of cooking but it felt very relaxed. I don't tend to use silken tofu as I dont know how to best use it, so making gammodoki was interesting and turned out very tasty. The background information about shojin was interesting. Looking forward to the next class.
17 Jan 2021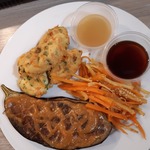 by Luke
STRAWBERRY DAIFUKU ONLINE LIVE-STREAM CLASS
A fun and well-paced class!
I joined the Ichigo Daifuku class and enjoyed learning how to make my own! The pace was excellent and Yukawa-san was conscientious in ensuring that everyone was comfortable and keeping up. If you're interested in Japanese food and culture, learning something new, and doing something a bit different - then I would thoroughly recommend this class!
16 Nov 2020
by katerina
STRAWBERRY DAIFUKU ONLINE LIVE-STREAM CLASS
Superb class
Never had an online cooking class, I almost bailed out due to being nervous. Anyway it was great I didn't, I enjoyed the lesson so much, our tutor was so lovely when I got the key ingredient wrong (Glutinous rice flour) and improvised a revised recipe. On to sushi V1 & 2 next.
15 Nov 2020
by Mioko
STRAWBERRY DAIFUKU ONLINE LIVE-STREAM CLASS
Utterly enjoyable cookery lesson!
Lovely atmosphere created by Kinu. The whole lessons was really enjoyable.
15 Nov 2020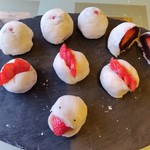 UPCOMING CLASSES