INSTRUCTOR
Izumi Nakamura
Izumi grew up in Amakusa, a beautiful chain of five islands located in the south of Japan, blessed with delicious, natural, wholesome food -Izumi has never been far away from the joy that food can bring, honing her super-healthy recipes in surroundings with rich history.
She draws upon this upbringing in her work as an outstanding sushi chef, dietary consultant, and qualified sake sommelier. Her background as a trained and experienced pharmacist also enables her to create dishes and menus that are as nutritionally balanced as they are delicious.
She shares her passion for Japanese cooking and the health benefits to be had from it through her fun, informal, hands-on lessons. Her down to earth teaching and creative demonstrations at many companies and shows. She is the GM of Sozai cooking school, managing many events in London and creating various of live streaming shows. She is also founder of 5 Incorporated Ltd, offering private chef/corporate event catering services.
Izumi is a member of the Japanese Culinary Academy UK.
REVIEWS
by Vicky
Online Sushi Master Class Vol.1 Uramaki & Temari
Vicky
Lzumi's class was very informative. She explained every step in details and gave us lots of tips. I certainly enjoy it and will continue attending other sushi making classes.
16 Nov 2020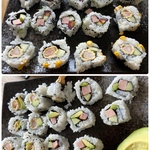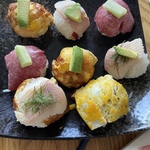 by Chris
Online Sushi Master Class Vol.2 Futomaki and Tamagoyaki
Well done, relaxed and a great learning experience
08 Nov 2020
by Shuhei
Online Sushi Master Class Vol.2
Great online sushi class!
ありがとうございました!とても楽しく、美味しい巻き寿司がつけれました。海苔を半分に切るのは作りやすくて良いですね。
07 Nov 2020
by Tory
Halloween Kids Sushi Class
Halloween Sushi
Really fun class for children with infact delicious results, highly reccomended!
26 Oct 2020
UPCOMING CLASSES