INSTRUCTOR
Izumi Nakamura
Izumi grew up in Amakusa, a beautiful chain of five islands located in the south of Japan, blessed with delicious, natural, wholesome food -Izumi has never been far away from the joy that food can bring, honing her super-healthy recipes in surroundings with rich history.
She draws upon this upbringing in her work as an outstanding sushi chef, dietary consultant, and qualified sake sommelier. Her background as a trained and experienced pharmacist also enables her to create dishes and menus that are as nutritionally balanced as they are delicious.
She shares her passion for Japanese cooking and the health benefits to be had from it through her fun, informal, hands-on lessons. Her down to earth teaching and creative demonstrations at many companies and shows such as Your Sushi, Big Life Organics and Hyper Japan have already encapsulated and combining her talents. Her private lessons will show you how to create simple, delicious food. She is also the founder of 5 Incorporated Ltd, offering private chef/corporate event catering services.
Izumi is a member of the Japanese Culinary Academy UK.
REVIEWS
by Tieny
Online Sushi Master Class Vol.3 Shikai-maki & Nigiri sushi
Tieny
I have three Sushi class with Izumi. All experience are amazing, Izumi is very kind and patient to teach us every details about sushi. All my family are very happy and asking me keep learning more from Sozai!
24 Oct 2020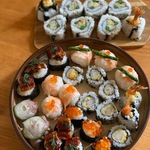 by havva
Online Sushi Master Class Vol.1 Uramaki & Temari
Loved this course
'Online Sushi Master Class Vol.1 Uramaki & Temari '
Attended this course yesterday and loved it. Izumi was an amazing teacher, informative, precise and with lots of titbits on supplies/techniques/versatility and how to adjust the recipes to taste, rolling techniques and the importance of paying attention to the preparation and then the fun bit of rolling them, into balls, triangles or sushi rolls. Really feel inspired. Will definately do another course. thank you
havva
18 Oct 2020
by Sofia
Online Sushi Master Class Vol.1 Uramaki & Temari
Amazing Class!
The sushi class was very fun!
It was very instructive and the teacher explained everything very clearly.
She was very patient and we loved that she said little interesting facts about sushi and anything related to it.
The techniques were easy to follow and we will surely be eating more sushi from now on!
28 Sep 2020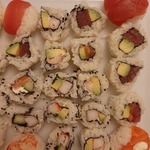 by Tory
Online Sushi Master Class Vol.4 Kazarimaki & Nigiri
Sushi Masterclass N°4
Another enjoyable class with good looking & tasy results. I would have enyoyed a bigger focus on Nigiri, specifically slicing the fish, looking at the specific fish size & weight and practising more the rice forming and the varies toppings that are possible, infact I would probably have one class focus on Nigiri.
Regards
Tory
29 Aug 2020
UPCOMING CLASSES