INSTRUCTOR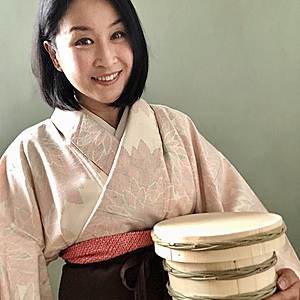 Kinu Yukawa
Kinu Yukawa is a cooking instructor, food stylist and private chef from Kobe, Japan. She ventured into the world of food early in life and fostered the basics of cooking from her grandmother who was a chef. Later she trained at Ecole Ritz Escoffier Paris and traditional Japanese cuisine in Kyoto.
Kinu believes in the simplicity of the Japanese philosophy in enjoying food with the body's five senses as well as cooking with the colourful produce in season. Bringing 'harmony' to the body nourished by the seasonal 'food' which is one of the meanings of the word 'Washoku' (the harmony of food), the Japanese terminology for Japanese cuisine.
Kinu has been teaching Japanese cooking at the Japan Centre London since 2011, sharing her expertise and knowledge of Japanese cooking and styling to students of all walks of life and various levels of culinary interests.
Visit her website @
Deliciously Japanese
www.kinuyukawa.com
REVIEWS
by Sam
ONLINE JAPANESE COOKING BASICS - VOL 1
Fantastic class!
Thank you Kinu-san, you are an amazing teacher. What a fantastic class! It was a great Father's day gift voucher ever I had. To be honest, I didn't know what I was going to do. The end of the class, I cooked amazing dinner for my family, so proud of myself. I want to cook more.
06 Jul 2020
by Rio
Online Katsu Curry MasterClass
Online Katsu Curry MasterClass
Thank you so much for the class! The class was very fun and easy to follow. We learnt a lot about making Chicken Katsu & Kushi Katsu, and how to also properly make curry as we were following the box instructions before. Kinu is a fantastic teacher!! Will definitely be attending more classes!
17 Jun 2020
by Thomas
Online Katsu Curry MasterClass
Katsu Curry MasterClass
Great class! Very easy instructions for preparation and during the class. Kinu-san (teacher) was very helpful and constantly checking on each individual progress.
The dishes were an instant success with my wife and kids, making it now one of my staple home cooking recipes.
I had the chance to try these dishes in Japan and I managed to create even better home made dishes. So easy when you have the tricks from Kinu-san.
15 Jun 2020
by Susan Morrison
Online Okonomiyaki & Yakisoba Varieties MasterClass
Okonomiyaki
Despite my technical issues, the class was fantastic. Informal yet informative, Kinu is a fantastic teacher and I was so pleased with the final dishes.
Thank you so much for inviting me
I'd absolutely love to attend more classes
Xxxx
13 Jun 2020
UPCOMING CLASSES