INSTRUCTOR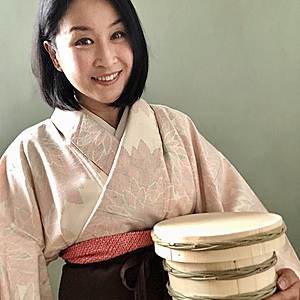 Kinu Yukawa
Kinu Yukawa is a cooking instructor, food stylist and private chef from Kobe, Japan. She ventured into the world of food early in life and fostered the basics of cooking from her grandmother who was a chef. Later she trained at Ecole Ritz Escoffier Paris and traditional Japanese cuisine in Kyoto.
Kinu believes in the simplicity of the Japanese philosophy in enjoying food with the body's five senses as well as cooking with the colourful produce in season. Bringing 'harmony' to the body nourished by the seasonal 'food' which is one of the meanings of the word 'Washoku' (the harmony of food), the Japanese terminology for Japanese cuisine.
Kinu has been teaching Japanese cooking at the Japan Centre London since 2011, sharing her expertise and knowledge of Japanese cooking and styling to students of all walks of life and various levels of culinary interests.
Visit her website -
www.DeliciouslyJapanese.com
@DeliciouslyJapanese
REVIEWS
by Suzue
ONLINE JAPANESE COOKING BASICS 2 - KARAAGE
Karaage - Japanese cooking Basic2
Highly recommend this lesson ❤️My daughter (9) participated with me. It was good to learn how to make Karaage so easily and dipping sauce was addictive ⭐️ Also we learned miso soup with tomatoes & onions which was new combination to us. The soup tasted great with acidity of tomatoes, made well balanced- dinner. The Karaage disappeared super quickly!
13 Oct 2020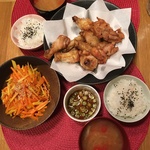 by Gaye Soykok
ONLINE SHOJIN VEGAN COOKING 2
Shojin class a great experience and a great teacher
I attended the Shojin cooking class and the simplicity of the ingredients with the richness of tastes are surprising. The class was packed with content and activity. I did not understand how the two hours passed. And our teacher was amazing handling the hickups l experienced due to an err in ingredients and helping us to end up in delicious and pro looking results.
Recommend!
11 Oct 2020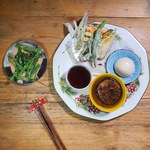 by Anja van Wezel
ONLINE SHOJIN VEGAN COOKING 1
Shojin Ryori workshop
I followed this wonderfully workshop from the Netherlands.
I really enjoyed this workshop. Kinu-san is great teacher and very kind!
I really can recommend everyone how want to learn to Cook Japanese food to sign in for a online workshop at the Sozai cooking school.
Where ever you are on the world! It was a great experience! Thank you again Kinu-san and Sozai cooking school! Domo arigato gozaimasu🙏🏻⛩
28 Sep 2020
by Katie
ONLINE OKONOMIYAKI & STREETFOOD CLASS
Easy to make and delicious!!
What a fab experience to cook such traditional Japanese dishes in such a fun way. The okonimiyaki was soooo easy to make and to die for. I recommend cooking these with friends.
12 Aug 2020
UPCOMING CLASSES